Hair Extension Salon
We specialize in hair extensions, color, design and total finish work. Our number one priority in the salon is respect for your hair. It is important for us to maintain your natural hair's health. We want to keep it in the best condition possible by using the safest methods of hair extensions and color. Our hair extension bonding is done with precision so that every hair hangs with even tension and is comfortable and will not cause breakage. We also use caution not to over process your hair. We work towards long term goals to achieve and maintain it with optimal health and strength. We will plan a personalized designed set of extensions to work well your own hair. It will look like your natural hair. We will do the best match possible so that you can easily style it at home.
At the salon, we Great Lengths Hair extensions and Hair Dreams hair extensions. We also do custom blends and work with only top quality hair from around the world, including Russian Virgin hair which is the finest and softest in the world and works very well with super thin hair for natural looking blending.
Hair Extension Before and After Pictures
Please look through the pictures section to see the various hairstyles that Kim Lake and her staff have created. None of these photos are stock photo models, they are all the work of Kim Lake and her staff.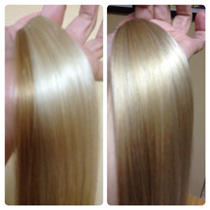 Before and after. An example of these colors being blending to produce new color. Hair Extension colors can be blended to exact specifications and is made to order for each client for the best color match possible.
About Our Hair Extensions
We use only the finest quality hair and method to suit each individual client. Each set of hair extensions is designed and custom made to order by Kim. These hair extensions will address all previous issues that you may have had in the past, like shedding, itching, hair loss, painful removal, color matching, texture matching, crooked bonds, bonds showing. You will have the most comfortable hair, flawless color matching and transition. Kim is a detailed perfectionist. We also are available with the best aftercare for the slightest issue you might have.
In addition to our Custom Blends, Kim is a certified to do Great Lengths hair extensions and Hair Dreams. We do the smallest, undetectable bonds with even tension so they feel comfortable and remove with great care as not to damage your hair.
We can produce any color or texture design, custom, and made to order for the most perfect blend of hair extensions ever.
Invisible Hair Extensions.
Custom colored hair extensions with ombre faded root color so that you don't see the bright blond bond when the color grows out.
We use only the best, high quality hair extensions at the salon. If the hair is not satisfactory, we are good to take responsibility and address the concern to replace it. Included is regular maintenance checks to ensure the success of your set of hair extensions.
We use several types of hair, Russian, Indian, and Asian, each hair type has different textures and allows for more exclusive matching to each client. WE use only the top quality of hair. There is no option for budget hair at our salon. The hair is always remy and double drawn.
Custom Blends Hair Extensions is the most versatile way of doing hair extensions. Custom Blends Hair Extensions is only top quality, similar to other types of fusion hair extensions, except with the ability to customize color better. So if you are familiar with other popular name brands, such as Great Lengths, Flashpoint, Hair Dreams, So Cap, Hair Locks, Cinderella, Donna Bella, then Custom Blends will allows for more natural color blends and texture matching. Custom Blends Hair Extensions adjust to different fusion methods (i.e., micro rings, shrink tubes, flat, or round tips). With Custom Blends Hair Extensions there are endless possibilities. We can also keep you with the extensions you prefer as well.
Our Staff
Kim Lake has been in the business 30 years. Her early training includes apprenticeships for Giuseppe Franco in Beverly Hills and Salon Cristophe, both both salons in the Golden Triangle in Beverly Hills. Over the years, Kim has also been an educator for Lanza International, but was later recruited by L'Oreal Professionnel,as a show stylist and an educator to teach advanced color and haircutting methods. For the last 10 years, Kim has her hands full with the salon and specializing in hair extensions.
More details about Kim can be found here. More about Kim.
Salon Direction and Contact Info
Schedule an appointment 206-992-9907.

Seattle/Tacoma, WA Salon

Kim Lake Hair Salon
30821-B Pacific Highway S.
Federal Way, WA 98002
directions and google map
The Salon is centrally located between Seattle and Tacoma in the city of Federal Way. The private location allows for easy parking. People travel from all over to have their hair done here. We have several clients who fly from out of state and a few who come in from out of the country, as well as driving from Bellevue, Seattle, Kirkland, south of Tacoma, Eastern Washington, California, Portland and Canada. We have a couple of clients that come from New Zealand and South Africa.
Hair Salon Hours
The salon hours are 10 a.m. to 7 p.m., Tuesday through Saturday. Special accommodations can be made for Sunday or Monday, however, there will be an additional service charge.
More Kim Lake Hairstyle Pictures
Subscribe to Kim's Blog
Kim is a contributor for Seattle Hair Extension's Blog .
---
We are licensed cosmetologists. We are current on all state board regulations.