About Kim
With 30 years of experience as a hairdresser Kim has been doing hair for most of her life. Currently, she is the owner and operator of Kim Lake Hair Salon in Federal Way, midpoint, between Seattle and Tacoma, near the airport for easy access to those traveling in from out of town.
Kim is also the developer of Custom Blends Hair Extensions, a method that goes steps above current brands to allow for more creative options for the hairdresser by customizing the product to their needs. Only top quality hair and materials are used.
Kim has been doing hair extensions, exclusively, for the last 11 years, with few exceptions of non extension clients. Kim is an innovator in her field. She has worked with several kinds of hair extension methods and brand names. There are many hair extension products that are of very fine quality. Kim noticed they still had limitations. Sometimes it was hard to match the color or texture just right with the choices that were available. This has led Kim to create hair extensions of the very best quality, except with more design options that can create better matching hair for a wider variety of hair types and colors that are more natural looking and can match highlights better. Our aim is to offer the best of hair extensions possible. We do not compromise quality for price.
Kim is certified in several brands, including Hair Dreams Hair Extensions. She still continues to seek out all there is to know about hair extensions, so learning other methods is a must.
The greatest training in hair extensions for Kim has been in Italy, where she has gone on multiple occasions for continuing education on the latest European methods. This is where she learned top notch hair extension manufacturing, and the many processes it takes to create top quality extension hair. She is also a distributor for the hair extension factory near Palermo, Sicily.
Prior to owning her own salon, Kim has worked as an educator for Lanza International, and color educator and show stylists for L'Oreal Professionnel. Both times, it was companies that came to Kim and hand picked her from the salon where she worked. L'Oreal actually stole her from Lanza. Kim ceased the opportunity to transition from salon educator to show stylist and was able to work with talents such as world renowned color specialist, Joe Blackwell, from Soho district in New York City's Dop Dop Salon, who calls Kim the "blow dry queen." However, L'Oreal wanted her because she was already a color expert. L'Oreal Professionnel is a high end salon quality color used by the biggest salons in the world. Kim's experience with other color lines at different salons has shown that the L'Oreal Proffesionnel color brands really are "worth it."
Kim's earlier training and experience have come from her days in Beverly Hills where she did her apprenticeship at Salon Giuseppe Franco , whose madness for perfection was met with Kim's ability. She also worked for Salon Cristophe in Beverly Hills. Kim had the great opportunity to be able to learn from over 50 different stylist from around the world. Please note that hairdressing school from anywhere else in the world, except the USA, is between 3 to 5 years long, while it is just one year in the United States. Most of those hairdresser that Kim worked with in Beverly Hills were Europeans. Kim has learned methods from Japan, Italy, Belgium, France, England, Russia, Iran (which is six years of training), and Israel, but those are just a few.
Kim first learned hair extensions in Beauty school. Then, a little in the salons, but the best part of her hair training was in Italy, actually, Sicily, where she developed trade secret hair extensions manufacturing techniques from a hair extension factory.
Back to the beginning. Kim went to beauty school in the very trendy area of Broadway in Seattle, Washington. Kim was 16. The school was Broadway Beauty School in the 1980's, a time when punk, New Wave and avant guard styles were very prevalent. Cutting sharp precision lines, pushing the envelope with color, and learning to shape those 80's style big hair with backcombing was advanced training from the starting gate. While still in beauty school, Kim's natural talent was discovered early and she was asked to become a cadet instructor after graduation. While Kim is a trained instructor, teaching at a beauty school with zero salon experience didn't seem like a path to anywhere. The experience of that education was still valuable, as she picked up the way every student thought about hair. Kim continued to always learn everything she could from coworkers in salons where she worked. Even lesser experienced stylists have something to offer because they had different training.
Along the way, Kim has worked at various other salons around Seattle and Los Angeles, and attended college part time. She will still travel to LA on occasion to do hair, as well as New York and Las Vegas. She graduated with high honors from GRCC in Multimedia. Kim has done independent studies on the material science of polymers, so she has the best understanding of the product she uses. She also teachers hair extensions to other stylists.
Kim keeps an ongoing relationship with Giambertone hair extension factory in Sicily. They are the number one supplier of hair extensions in Sicily. Kim has other suppliers from around the world as well. Kim has been asked to join the Giambertone team in Sicily to help improve their hair extension designs, so she takes regular business trips and spends time with Italians exchanging ideas. One thing is certain. Italian Artisans most definitely take pride in creating things that are of the finest quality. The point is to offer the very best, not just make the most money with substandard products. This is the way things are done at Kim Lake Hair Salon.
Kim has clients who continue to fly in to see Kim from New Zealand, South Africa, New York, Easter Washington, Alsaka, Cananda, Los Angeles, Las Vegas, Main, and Arizona to see her. They will also drive from Portland, Seattle, Tacoma, Bellevue, Kirkland, and beyond to see her, and it's worth it if you do too.
San Jose Style Show with L'Oreal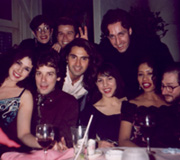 Salon Cristophe Christmas Party at the Beverly Wilshire Hotel with Ana Rivas
Rooftop Hair Show after party in LA for the Mag Artists Group after the ISSE Show in LA.
Part of the L'Oreal team with me at dinner in Las Vegas 2005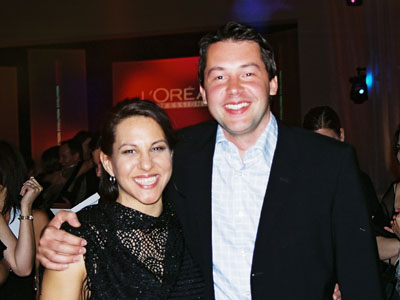 Kim Lake and Pierre Lampert, L'Oreal Professionnel's General Manager