Welcome to Kim Lake Hair
At Kim Lake Hair salon we specialize in hair extensions, as well as corrective color. We are also highly skilled in design and finishing methods.
Kim has been in the business 30 years, and is now introducing the next generation hairstylist new princess, Bailey Lake. Bailey comes highly recommended. She is a natural born artist. More about Bailey>.
About Our Hair Extensions
We use only the finest quality hair and method to suit each individual client. Each set of hair extensions is designed and custom made to order by Kim. These hair extensions will address all previous issues that you may have had in the past, like shedding, itching, hair loss, painful removal, color matching, texture matching, crooked bonds, bonds showing. You will have the most comfortable hair, flawless color matching and transition. Kim is a detailed perfectionist. We also are available with the best aftercare for the slightest issue you might have.
Hair Extension Before and After Pictures
Please look through the pictures section to see the various hairstyles that Kim Lake and her staff have created. None of these photos are stock photo models, they are all the work of Kim Lake and her staff.
Are you looking for superb quality and attention to detail, clean facilities, hair extensions that look the most like natural hair, hair extensions that don't itch like previous ones, fine quality hair that does not tangle as much as other hair extensions do, have the exact hard to find color that you may have?
How about long, lasting bonds that don't shed, and very, neat, small undetectable bonds that feel comfortable to wear?
It's all here. Take a look at this site and discover what Kim has to offer:
Our Hair Extension Methods
We can produce any color or texture design, custom, and made to order for the most perfect blend of hair extensions ever.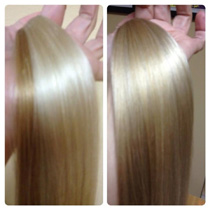 Before and after. An example of these colors being blending to produce new color. Hair Extension colors can be blended to exact specifications and is made to order for each client for the best color match possible.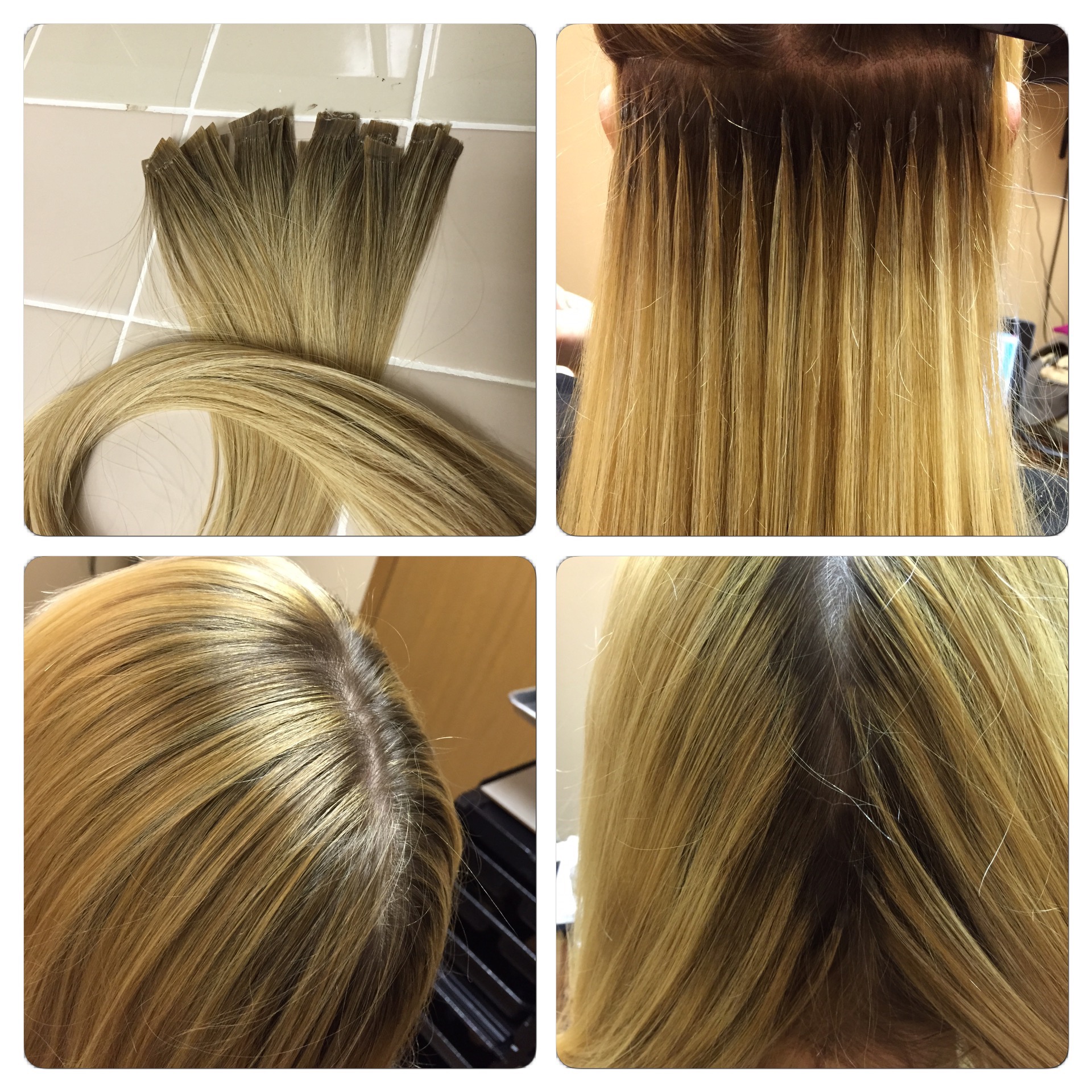 Invisible Hair Extensions.
Custom colored hair extensions with ombre faded root color so that you don't see the bright blond bond when the color grows out.
We use only the best, high quality brands of hair extensions at the salon.
We use several types of hair, Russian, Indian, and Asian, each hair type has different textures and allows for more exclusive matching to each client. WE use only the top quality of hair. There is no option for budget hair at our salon. The hair is always remi and double drawn.
Custom Blends Hair Extensions is the most versatile way of doing hair extensions. Custom Blends Hair Extensions is only top quality, similar to other types of fusion hair extensions, except with the ability to customize color better. So if you are familiar with other popular name brands, such as Great Lengths, Flashpoint, Hair Dreams, So Cap, Hair Locks, Cinderella, Donna Bella, then Custom Blends will allows for more natural color blends and texture matching. Custom Blends Hair Extensions adjust to different fusion methods (i.e., micro rings, shrink tubes, flat, or round tips). With Custom Blends Hair Extensions there are endless possibilities. We can also keep you with the extensions you prefer as well.
Salon Amenities
Free Front Door Parking

Private Suites for privacy

Beverages Served

Free WIFI

Hi Definition TV, Surround Sound, Cable, Internet TV, including Netflix or Radio

Full hair extension services includes lunch.

Foot Massager Available while Shampooing

Handicap accessible bathroom
Kim's Training
Kim Lake, owner and operator of Kim Lake Hair Salon, has 30 years experience. She has also taught for Lanza and L'Oreal, as well as private classes for various salons. She did her apprenticeship in Beverly Hills with Giuseppe Franco on Canon Drive and Salon Cristophe on Beverly Drive. She has worked at top salons in Los Angeles and in the Seattle area. Kim has also trained in Italy, learning the latest European methods and new technology for hair extensions. Kim is trained and certified in several different lines of hair extensions, including Hair Dreams Hair Extensions. More details about Kim can be found here. More about Kim.
Kim's Hair Philosophy
Our number one priority in the salon is respect for your hair. It's important to maintain your natural hair's health, keeping it in the best condition possible by using the safest methods of hair extensions and color. We make sure our hair extension bonding is done with precision so that every hair hangs with even tension and is comfortable and will not cause breakage. We also use caution not to over process your hair with color and work towards long term goals to achieve and maintain it with optimal health and strength. We also plan a design to work well so that you can easily style it at home.
We also think it's important to maintain our salon with clean facilities, not allowing you to sit in a mess or get touched with unsanitary implements. There is professional housekeeping on staff. We practice safety and sanitation by the book, in complete compliance with state board regulation. All capes and robes are always freshly washed. The only hair in the brush you will see will be yours.
Salon Direction and Contact Info
Schedule an appointment 206-992-9907.

Seattle/Tacoma, WA Salon

Kim Lake Hair Salon
30821-B Pacific Highway S.
Federal Way, WA 98002
directions and google map
It's worth the drive if you care about your hair. The Salon is centrally located between Seattle and Tacoma in the city of Federal Way. The private location allows for easy parking. People travel from all over to have their hair done here. We have several clients who fly from out of state and a few who come in from out of the country, as well as driving from Bellevue, Kirkland, south of Tacoma, Eastern Washington, Portland and Canada. We have a couple of clients that come from New Zealand and South Africa.
Hair Salon Hours
The salon hours are 10 a.m. to 7 p.m., Tuesday through Saturday. Special accommodations can be made for Sunday or Monday, however, there will be an additional service charge.
Salon Policy
For the health and safety of our salon we will not provide services if you have cold or flu like symptoms, even if you insist you are no longer contagious. Please call to reschedule your appointment. We will do our best to get you back in as soon as you are healthy.
Clients must be 18 years old or older.
More Kim Lake Hairstyle Pictures
Subscribe to Kim's Blog
Kim is a contributor for Seattle Hair Extension's Blog .
---
We are licensed cosmetologists. We are current on all state board regulations.